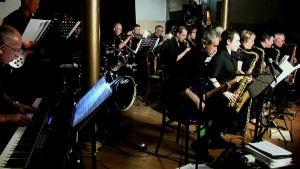 Bandskool goes BIG!

A new community big band in Altrincham is being proposed by bandskool director, Andrew Turnbull and he would like to hear from any musicians at all levels - even beginners - who would like to take up the challenge of being a part of its regular rehearsals.
He said: ' bandskool has been coaching young bands since 2003 so I felt it was time to branch out a bit and offer something to all ages. A big band is the perfect blend of ensemble playing and small band performance allowing for skillful arrangements married to improvisation. So no matter what musical background a player comes from, there should be something that interests them.'
It is hoped that regular rehearsals will start as early as September though players will be able to join at any time. After an initial meet up, rehearsals will most likely be weekly or fortnightly.
Andrew: ' This is about creating an opportunity for players of all ages to come together to create a big band sound, have fun, be educated, socialise and perhaps occasionally perform at concerts locally. '
Andrew is already the founder and director of a big band in Scotland called 'DGKollective' and says he would like to continue the work in Altrincham where his bandskool service is based.
' I have teachers right now who would be interested in offering players lessons, if they are needed. I would also like to encourage beginners to sign up for lessons. In fact, I have a Trombone to give to the right beginner student should they wish to come forward'
The photo shows DGKollective in action at the Bessie Boyd in Carlisle.
For more information about the community big band or bandskool's services, contact andrew@bandskool.co.uk or 07902 532883