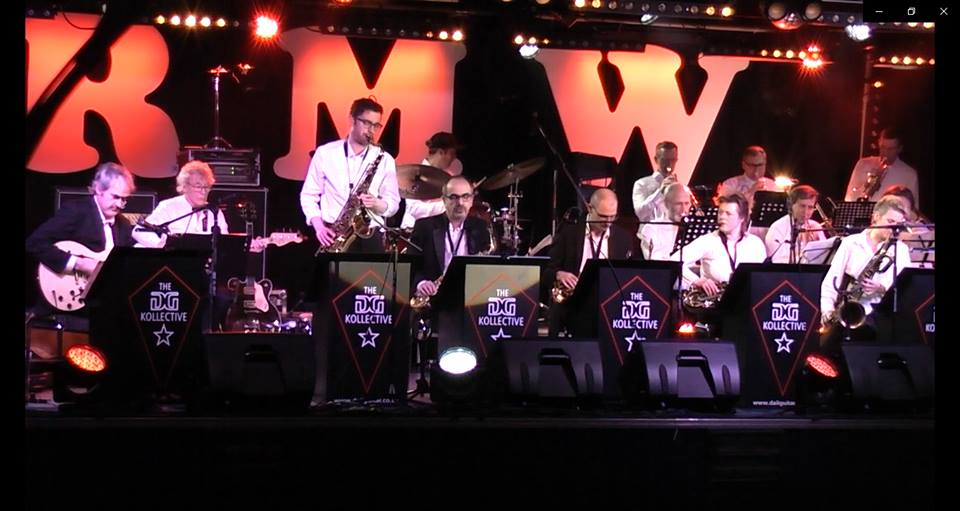 Introduction
The standard big band format was an outcome of the growth in popularity of Swing Dancing in the 30's to mid 40's. As the genre achieved mainstream success, it became necessary to add more musicians to the line up to augment the sound in large dance halls. And so horn sections were created. This at a time that predates PA or sound reinforcement technology. If PA technology had been available, the chances are that bands would never have grown to the size they became. Fast forward to the future to find that a solitary DJ can make any kind of musician redundant. The truth is that, technology has replaced musicians in a way that is not necessarily a good thing.
And so Big Bands became associated with the Swing era; though it is important to realise that big bands and Swing bands are not necessarily one and the same thing:' Swing' is a genre and adopted the big band format; Big Bands allude to the format that arose out of the Swing era but it does not presuppose a musical style. In the post war era – some 75 years – the big band as a format has survived the test of time. Sometimes it is referred to as a Jazz ensemble or Jazz Orchestra and is regarded as an equal to anything the Classical World has to offer. These last 75 years have seen many band leaders take the format and drive it forwards in an innovative way. Leaders like Stan Kenton, Buddy Rich, Maynard Ferguson and many more. One thing is sure: as with post war Jazz generally, it is not designed for dancing!
The challenge with big band – apart from managing the economics in the real world – is to both honour the past whilst taking it forwards into the 21st century. Surely the goal must be to make the format as flexible as possible; both in terms of line up and in terms of styles arranged. A 'big band' is not a style and neither does it have to conform to a particular expectation regarding the format. It is simply a big band with all the musical possibilities it affords.
Contents
Musical Languages
The Trumpet section
The Trombone section
Musical styles