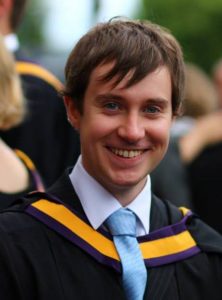 Dean Parker graduated from the University of Manchester with a Bachelor of Music and now works as a vocal/woodwind teacher in schools across Greater Manchester and as a freelance singer.
Dean studied clarinet and saxophone throughout university and regularly participated in performances, both as a soloist and in ensembles such as the university's wind orchestra, saxophone orchestra, symphony orchestra, and chamber orchestra. During his final year he performed alongside members of professional contemporary music ensemble Psappha in a performance of Vivier's 'Lonely Child'. Dean continues to play woodwind in pit bands for local musical theatre productions.
As a singer, he is familiar with a range of styles including: classical, music theatre, and pop. He has performed at the 2015 International Gilbert and Sullivan Festival as the Duke ('Patience') and Frederick ('Pirates of Penzance') for which he won the 'Best Male Voice' award. As an oratorio soloist, Dean has performed in Bach's Magnificat and St John Passion, Vaughan Williams' 'Serenade to Music', and Handel's 'Messiah' and Dettingen Te Deum. Dean is a member of the Manchester Singers octet with whom he has performed at Brighton Early Music Festival, The Sixteen's Sounds Sublime Festival, Chorlton Arts Festival, and on BBC Radio 4. Future engagements include the role of Tamino in City of Manchester Opera's production of Mozart's 'Magic Flute'.
As a teacher, Dean is familiar with a range of styles and exam syllabuses. He has experience of teaching a wide range of ages and abilities (4-retired and beginner – grade 8) and has a 100% exam pass rate.